Big .EU Promotion on Joker.com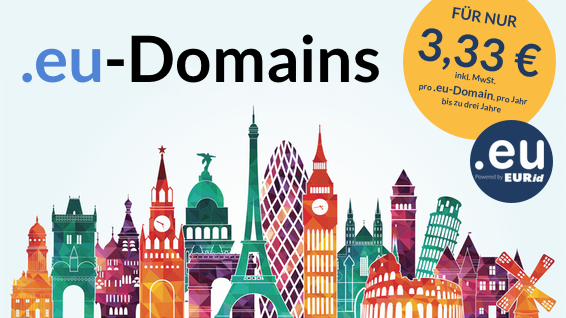 Until November 30th you can register 1,2 or 3 years of .EU domains for only €3.33 per domain year. Is your country TLD (.de, .be, .nl, .at…) already taken? Do you own a business that operates across all of Europe? Why not go with a .EU domain for over 50 countries at once?
Check out our .EU landingpage for more information or search directly for your new .EU domainname.
All of 
.eu

rope, for a tiny price
Your Joker.com advantages
Independent:

No bundles with hosting, packages or add-ons.

Inexpensive:

Compare our prices, you will be surprised.

Transparent:

Costs are comprehensible explained, no hidden costs.

Fair:

All domain registrations include extensive features.
Your .eu domain advantages
Inexpensive:

One domain for 50 countries

Important market:

Europe was and still is an in importance growing market.

Conservation of value:

An .eu domain has a stable value compared to other domains.

Reputable:

Thanks to a meticulous verification and granting less prone to problems.
To save even more, you can now bundle a .com with a .eu domain. If you put both mydomain.com and mydomain.eu into your cart, a coupon is automatically applied to give you an additional discount for both.
Domain renewals starting from 4th year: 7.68 € per year (incl. 19% German VAT).
Promo prices only valid until November 30th 2018. Net prices: 2.80 € in the first 3 years, 6.45 € afterwards.