How companies utilize .link and .click domains
This article was provided by UNR – Uni Naming & Registry
See How FC Barcelona and the Kardashians Are Using One of These "Hidden Gem" Extensions
Whether you're running a business, starting a new project, or just need a branded URL shortener, selecting a concise domain name that fits with your brand is a crucial first step. But with so many options available, hunting for the best domains can be tough without a little inspiration.
To make your next domain search easier, we've highlighted some of our favorite use cases across several "hidden gem" extensions. Read on for tips on discovering the perfect domain that you didn't even know was available — and on sale now for a limited time!
.link & .click: Connect with a link. Instant results with a click. 
From branded URL shorteners to B2B websites, anyone can use a .link or .click domain to connect with your audience or drive a call-to-action.
Barca.link – FC Barcelona
Whether you have 200 followers or 200 million, like FC Barcelona, it's important to track what links your audience is clicking. But even if you're not one of the most popular football teams in the world, internet users have come to expect links to be shared on branded URL shorteners as a form of authenticity. That's exactly why FC Barcelona uses Barca.link as an official access point for their fans.
E.App.link – Keeping Up with the Kardashians
Have a TV show that millions of followers can stream online? Use a variety of branded .link domains to see where your biggest fans are! Depending on the platform, you will find the Kardashians use variations like E.App.link/GoWatchKUWTK and E.App.link/CheckOutKUWTK as savvy conversion-tracking tools.   
Anyone can set up their own branded URL shortener in minutes using one of the many free or paid services available online. All it takes is a little creativity and a .link domain to get started!
SPERO.click – Polish design agency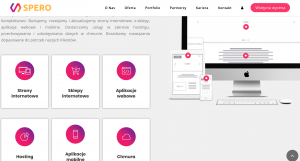 Sometimes, all you need is a website for your customers to click through. In such times, it's best to use a memorable URL or call-to-action. But why can't your domain be both? Get straight to the point like SPERO has with SPERO.click.
Show your audience that results are only a click away by registering YourName.click, YourBusiness.click, or YourService.click. 
No matter what you need a domain name for, .link and .click are the perfect extensions to connect you with your audience or drive a call-to-action. Here's how more customers are using their .link and .click domains: 
Personal use: YourName.link, YourInitials.link, FirstName@LastName.link
News & blogging: RegionalNews.link, SubjectMatter.link
Social: ForumTopic.link, PopCultureReference.link
E-commerce & services on-demand: YourBusiness.click, IndustrySupply.link, InstantApproval.click, SameDayDelivery.click
Call-to-action: PetitionSigning.click, JobApplication.click, ConsumerOffer.click
Feeling inspired yet? Register your .link and .click domains now for a limited discounted price.