Joker.com looks at the Domain Name Industry
Each quarter, Verisign, the registry for .com and .net domains, reviews the state of the domain name industry and provides some statistics regarding domain growth and popularity. For us as a domain registrar, it's interesting to see if our own numbers are reflected in those big international statistics. Since we are a German/Swiss-based company, which still also focuses on the international english-speaking market, we might see differences compared to the worldwide domain market. For you as a customer, these domain statistics might be interesting if you for example need to choose a new domain for a new business or your website. Is it better to use a .com or a .de, when you're in Germany? What about the new TLDs like .photo or even .cricket? How widely are they used nowadays and do people even understand them? As a domain reseller you need to know which domains are interesting for a lot of people so it's worthwile for you to support them. And as a reseller it's of course interesting to see if the market is still increasing and by how much and in which areas. Russia or China for example.

Well, the most popular domain still is .com by far, no surprise there, followed by .tk (because they are free) and .de on the third place. So if you're a reseller, you should maybe think about offering your service in German as well, since many customers are interested in .de-Domains. The following positions go to .net, .cn, .uk, .org, .ru, .nl and .info. China and Russia obviously are two big markets as well.
Since .com isn't a ccTLD (Country code top-level domain), .de is the biggest ccTLD besides .tk, even before .cn (China).
Overall, the domain market is still growing. Globally there are 296 million registered domain names – 133.5 million of those are .com or .net. This is an increase of 5,6% compared to the year before.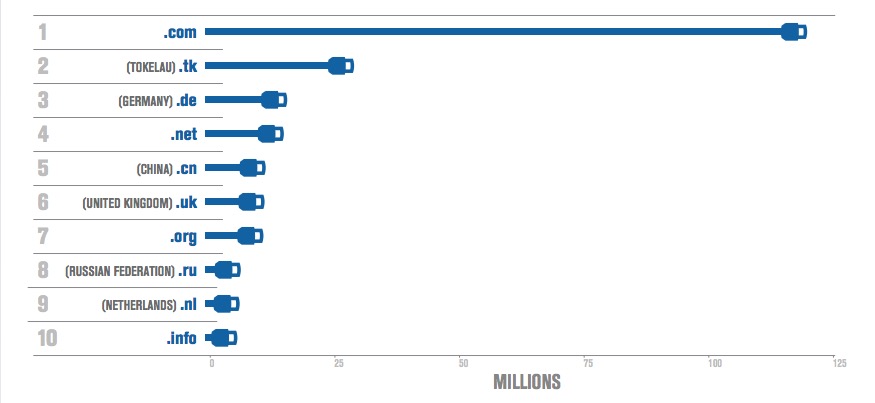 So we see, despite the hundreds of new TLDs, .com is still the most popular and keeps growing, as does the whole domain market. .DE is a big market as well, but China and Russia are catching up. The new TLDs shouldn't be overlooked, though. .XYZ for example, the biggest of them, has just reached over 1 million registrations (Source: NameStats.org) and isn't that far away from .INFO with a little more than 5 million registered domains.
You can download the full PDF here or visit Verisign for their complete DNIB (Domain Name Industry Brief)