What is WHMCS, and how to use it with Joker.com

WHMCS is a popular web hosting and automation solution, which includes billing and support options.
WHMCS can help you with sending invoices and collecting payments for all domain related things, and it can be used for registering and managing domains through many domain registrars and all major web hosting control panels. You can learn more about the features of WHMCS on their website.
If you are using WHMCS for your hosting activities, you may interface Joker.com with WHMCS' domain functionality to easily order and manage domains from within WHMCS. It is free for all Joker.com resellers!
Joker.com maintains a registrar module for WHMCS, which offers a great load of features to interface Joker.com seamlessly from within WHMCS.
The following registrar core functionality is provided:
register domains
initiate transfers
perform renewals
allow viewing and changing nameservers
allow viewing and changing WHOIS information of domains
usable with any TLD Joker.com offers
Additionally, also these features are also provided:
create/edit email forwards
create/edit dns records for joker-ns
fetch auth id ("EPP Code")
sync of expiration date
order whois privacy protection with domain registration, transfer and renewal
switch easily between production and testing environment (OT&E)
use API key instead of user/password credentials
maintain privacy settings for domains
own CRON job script, for registration status check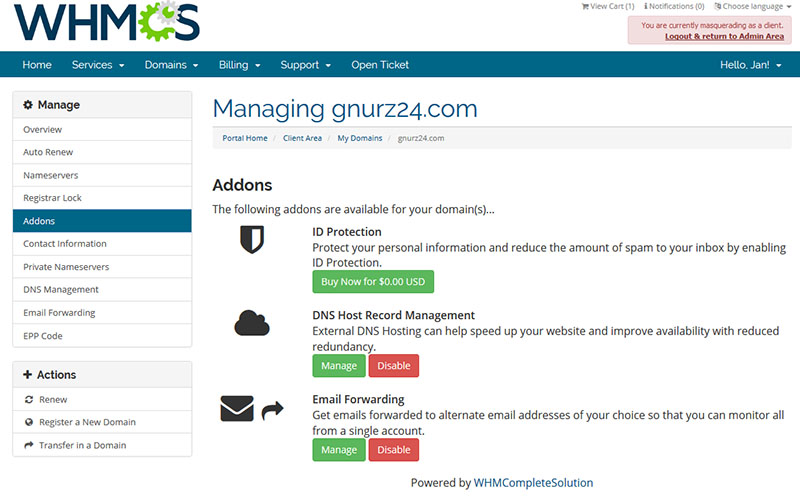 Please refer to our FAQ for details on how to install and use WHMCS with our registrar module.
You can always download the latest version of our WHMCS-Module in the official Marketplace for free, or from the Joker.com download page.