.FUN launch and more new Domains on Joker.com
On April 5th the new Toplevel Domain (TLD) .FUN launched. .FUN is short, meaningful and, well, fun. You can register your first year of any.fun domain for only $14.99 on Joker.com.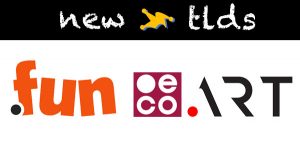 Apart from that, there are a few new domains which started recently or will start soon.
.HOSPITAL is of course perfect for all hospitals. The domain is already available and costs $64.95 a year. A week from now, on April 17th, the domain endings .REALTY and .OBSERVER will go online. On April 25th the short and meaningful .ECO will launch for general availability. The .eco organization – a global non-profit organization based in Canada, was formed to represent the environmental community's interests on the internet. Partners and collaborator are for example WWF and Greenpeace. Anyone who registers an .eco domain can become a free member of the .eco community, get involved in .eco and show everyone that they're committed to positive change for the planet.
With .ART starts another short Domain which shows in just three letters what the website is all about. .ART is dedicated to the world of arts and culture but is not limited to websites about art. The .ART domain will be available on Joker.com on May 5th.
All starting dates:
| | |
| --- | --- |
| .hospital | already online for $64.95/year ($38.97) |
| .fun | already online for $29.95/year ($14.99 for the first year) |
| .realty | starts April 17th |
| .observer | starts April 17th |
| .eco | starts April 25th |
| .art | starts May 10th |
You can see all available domains in our domain pricelist.